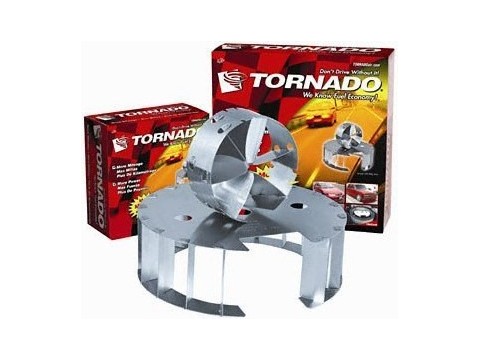 ONLY $39.95
 If you would like information on the

Hiclone fuel saver

please email us. We have them for sale as well.
Tornado Air Management System controls the airflow going into your engine and helps to compress it by creating a turbine wind tunnel inside of your intake tube
The Tornado goes into the air intake tube on your vehicle, creating a vortex and helping to improve the air flow to the intake on your engine. These are made of stainless steel and will outlast your vehicle!
Drivers who use the Tornado save on the average of 1-2 MPG and gain on an average of 5% Horsepower.
Measure your intake tube inside diameter and use the size listed next to each unit from the drop down table for ordering below. The sizes next to each are the smallest they will go, and they can expand a little more than 1/4″.
If you still need help or don't see the size below that you need then contact us
Choose your size from one of the two drop down lists below.
European Sizes:
We offer exchanges & returns for 30 days. There is an $8 charge for shipping & handling for any exchange, so double check your size carefully. If you need to return for any reason, then contact us first to receive an RMA#.
Returns are subject to a 25% restocking fee.
Returns must be made within 30 days and must be unopened and in original packaging, without missing any stickers on Tornado and must be clean and free from dirt/grease. If you return a tornado that is not in original box, is dirty, a different size, or missing stickers then it will be sent back to you and no refund given.
tornado ki 85, tornado air management, tornado cyclone, tornado fuel, tornado fuel saver, tornado gas, tornado gas saver, tornado ki, tornado ki 50, tornado ki 55, tornado ki 60, tornado ki 65, tornado ki 70, tornado ki 40, tornado ki 45, tornado ki 75, tornado ki 80, tornado ki 90, tornado ki 95, tornado ki 100, tornado ki 105, tornado ki 110, kc-25-c, kc-25-o, kc-30-o, kc-30-0, kc-30-c, kc-20-0, kc-25-0, kc-20-c, kc-40-0, kc-40-o, kc-40-c. kc-50-0, kc-50-o, kc-50-c, kc-60-c, kc-75-c, gm-39-c, tornado ki 115, tornado ki 120, TORNADO INTAKE, FUEL SAVER, gas saver, FAN, TWISTER, SUPER CHARGE, TURBO, SINGLE JET BLADE, ECO, turbonator, super charger, after burner,